Nigora Akhmedova,
Art Critic
Saira Keltaeva is an artist whose attitude manifests an intention to abandon memorized rules through the help of some hidden features, which a keen eye can nevertheless easily discern.  It is not mainstream that makes an artist strong, but a personality that keeps him from marching with the crowd and likens him to a Cat that Walks by Himself.  Maybe that is why Keltaeva's art eludes judgment about current trends, hardly fitting the common notion. Having fans who find her extraordinary and mysterious female characters magnetic, the artist certainly interests a researcher eager to understand the sources of her art and originality of plastic approaches.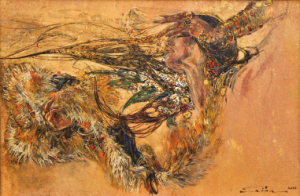 Keltaeva received an excellent education, graduating from art school and then the Tashkent Theatre and Art Institute (1979-1985), where she attended personal studio sessions of an Uzbek painting classic Academician Rahim Akhmedov. Like many of his talented students, she remembered her Teacher's key message: search for yourself, find your own voice without echoing others.
Persistent quest for identity complicated Keltaeva's artistic evolution, which ran inconsistently after she completed her professional education. Searching for her own ideas and images in the late 1980s and early 1990s coincided with the collapse of once stable art institutions, in which a young artist could find support, with the loss of values and habitual environment in which one grew up.
Early on, Keltaeva boldly expressed her own priority in decorative sonority of colouration and intense rhythm of colour planes: "Swallow" (1996), "Samarqand at Noon" (1996), a series of portraits and landscapes. Then, for a while, the artist embraced as her aesthetic reference the Viennese Secession and the art of Gustav Klimt with his sophisticated stylization of natural shapes and refined, sensual ideal of feminine beauty. At the same time, gravitation toward her roots and newly discovered treasury of cultural memory proved particularly important, as it did for many artists of her generation. Her fascination with traditional embroidery, felts, and her grandmother's silver jewellery she admired in childhood spent in a mountain village Saira combined with serious enthusiasm for the history of ancestors – the nomads of Central Asia; in her own words, "it appeared before me fabulous and great, and I experienced a sensation of powerful juices of life and the beauty of our ancestors. Perhaps that is where my love for everything local and native began…"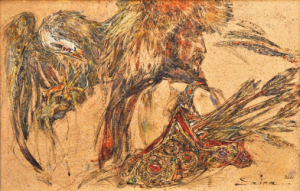 In her work, the artist drew immediately from her heritage, naturally, not limiting herself to it. She aspired for something more, enthusiastically creating symbols of beauty and new notions about women of the East from ancient times believed to embody a great mystery of life. This inquiry and desire for the "other shores" among the 1990s generation of painters is explained in the art-critical discourse by the reaction to the past ideological standards, when a female image had other connotations. For the most part it was the character of a soviet woman limited to educational and moralistic idea, in line with which she was supposed to be a shock-worker, a winner and over-achiever in socially beneficial labour. So, the mythological Venuses, Cleopatras, Scheherazades, fairies and poets' oriental beauties, which began to appear in painting, offered a metaphor for something elementally sensual, archetypal, new and magnetic. Once layered over by Soviet cultural substitutions, they were coming back along with the need to return women's images their mystery, eroticism and majesty. It is quite understandable that focused on mythology and mythologized history in the light of purely individual romanticism, Keltaeva's generation yearned for this imagined beauty.
The artist's progress toward her ideal was gradual. With age she grew wiser, and, like her heroines, free and independent. First in "Zhibek", "The Blue Trout of Beldersai", and later more convincingly in "Steppe", "Tumaris" (2000), and "Bayan Sulu" (2000) one can notice the establishment of Saira Keltaeva's unparalleled style, the essence of which is that the traditions of her nomadic ancestors do not get asserted by themselves by virtue of turning to the epic material and its stylization. Keltaeva picks up an 'inner' tradition that is indirect: not one of style, but of a worldview. Another impulse coming from tradition and the specificity of her quest manifest themselves in an attempt to discern in the faraway heroines something purely her own and connect this something with the image of a contemporary woman, thus realizing her own lyrical reflections. This is why, along with majestic heroines of epic tales, Keltaeva paints "Winter Cherry", "Autumnal Tango", and "Sonnet", compelling rather with their modern-day sensual beauty bearing the imprint of a woman's secret, than with one of a distant past. Once again the artist gets carried away by the decadence aesthetics, images and style of Art Nouveau era. Hence the seductively provocative gaze of her heroines imperiously claiming their right to the viewer's attention, looking him straight in the eye boldly and uninhibitedly. Bemusing in their showy postures and exquisitely ornamented costumes against rich decorative background, these women, nonetheless, seem to be immersed in a world of their own complex experiences and sensations.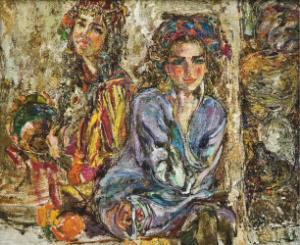 In her paintings "Altyn Shash", "Mountain Amber" (2002), and "Asia: Desired" reappear beautiful, vatical oriental faces full of life's intensity and mysterious, majestic spirit of Asia, to which the artist would devote her paintings in the coming years. In the works by Keltaeva one can notice a special way of picturing eyes: huge and almond-shaped, their beckoning gaze is deep and attentive, proud or sorrowful. This is one of the characteristic features of female images created by the artist. In her coloration prominently stand complex ochre-ashen low-key shades made not so much by nature, as by human skill and mastery: slightly faded designs of vintage textiles and costumes, soft glimmer of jewellery, gemstones and silver in heavy bracelets and ornamentation of traditional Kazakh headwear – strikingly beautiful and majestic product of Keltaeva's imagination.
Artistically successful combination of figurative and plastic elements one can find in "Asia: Desired" (2000). With the help of a definite, intentionally picturesque position of a seated woman's figure the habitual motif is consistently cleared of everything chance and highlighted in colouration. The graceful silhouette, the light outlines of birds against delicate pearly background, and fabulously beautiful costume – all is aligned to the poetic idea and plastic harmony. Feminine and delicate, with its mysterious oriental face, the image of Asian with its deeply concealed passion and everlasting spirit of pride, the image of enthralling associations with a kind of peculiar, contemporary aesthetics and beauty, is interpreted as a direct antithesis to the formerly adopted principles of picturing "sweet" oriental beauties.
In the past twenty years, many artists in Uzbekistan, searching for ethnic and cultural identity, regularly referred to poetry and myths. Keltaeva, too, turns to these sources. However, her artistic myth-images do not illustrate a poetic narrative; they are not literary in the essence and do not serve the purpose of "recreating" the past. For the artist this is rather a way of romanticizing it and an attempt to get away from the unsightly worldly prose of today into the world of the unknown in search of the true essence of things. This searching also exposes a kind of comparison between self and the legendary prototypes, such as in "Altyn Shash" and "Bride: Steppe", introducing a note of a dialogue in the perception of these works. That is why Keltaeva's art can be likened to an excited confession. It probably better reflects the true nature and greatness of her characters than pieces created by any chronicler or ethnographically true yet slightly boring images of the past.
With each new painting Saira Keltaeva approached the realization of a purely individual and rather unusual idea about an Oriental woman. Along the way one can see a shift of accents towards outer aesthetization that lent individuality to the stylistic expression of her painting and drawing, sometimes taking it away from the letter of mythological and historical content. The artist did not fear criticism and pursued her own path. Her "Gurkoni" (2008), "Akmaral" (2009), and "Toumor" (2010) fixed the techniques that were subsequently elaborated: an almost square format, often asymmetrical composition, prominently graphic ornamental style, magnetism and power of her heroines' gaze.
Triptych "Tumbleweeds" (2011) tells about the perpetual relationship of masculine and feminine elements communicated through poetic images of the people of steppe, the free spirit of which shows in the hot colours as if scorched by the sun. Against this background shared by all parts of the triptych she masterfully pictures "signs" of steppe: next to the perfectly polished cold of a bracelet and coin necklace and the ringing colour of coral and turquoise one can see textured silver furs and dry herbs with rough veins and knots. These objects become valuable material for colouristic and tonal modulations in Keltaeva's painting. The central part of the composition fails to fit the notion of a still-life: its expressive lines and brush-stroke energy are so remote from the concept of flesh and matter of things, which, being part of the overall design, expose the symbolism of this triptych of love.
Today, in the context of post-modern art that boldly caters to the taste of people living in a modern metropolis, a lot has been written on a trend towards theatricality, love for things artificial and exaggerated that accentuate an addiction to the new forms of artistry inspired by fashion and glamour. A sensitive artist, Keltaeva reflects the shifts in contemporary artistic mind. Specifically, these tendencies are evident in her paintings such as "Fragrance of Basil" (2011), "Heeding and Obeying" (2011). At first glance, the artist seems to be exploiting images characteristic of her art, yet the pining, sophisticatedly "made" beauty and modern-day grace of the catwalk models and their enigma now contain different connotations. Keltaeva has been able to find new possibilities to portray the elusive and the unseen known as modern ideal, where everything is about "a little bit" and dwells on the subtlest and fluid edge of fashion and taste. If colours and shapes in these paintings had been just a bit more realistic and "truthful", the enigmatic image would have crumbled. Instead of the now so popular craving for beauty one would only see crude sets, and everything would be objective and flat. Keltaeva's artistry and imagination weave these mysterious female characters, their stylized jewellery, and some other unbelievable luxury items and colours into a single decorative ornament of a peculiar shape. Pictorial and decorative space that harbours characters resembling unreachable "stars" or mysterious vamps is performed with a technique similar to a vitreous mosaic, stained glass or majolica, particularly in the complex colours of the background that seems to be paved with red, orange and yellow stones of a mosaic. Because of the complex coloration, the female characters appear unusually intriguing, making the viewer believe that their beauty rules the world. In her work the artist draws on the contemporary standards of beauty, luxury and eroticism.
Keltaeva's heroines, modern and epic, are free, proudly soaring above the mundane; yet at the same time they are lonely, uncompromising and daring, which is reflected in their eyes burning magnetically.
Considered together, works by Keltaeva reveal the duality of the artist playing in two dimensions at once: historical-mythological with epic characters, and a modern one, akin to the aesthetics of icons. Interestingly, the artist has found her own way to mythologize not only the past, but also modernity, having discerned and depicted its myths, and that is new. Thus, looking at her oriental beauties one realizes that the author still sources her material in the present. Having started with the heroines of epic tales and walking away from direct analogies with them, Keltaeva came closer to the human being of today. Dialogue with the past, with the history, serves her as an original modern feminist discourse. Having chosen the most important in this dialogue – the understanding of beauty, majesty and power of women – Keltaeva created her own image of women of the East: both strong and gorgeous, about to explore the unknown, craving new emancipation. This is how Saira Keltaeva sees the ideal of a beautiful woman.