Surayo Alieva,
Art Critic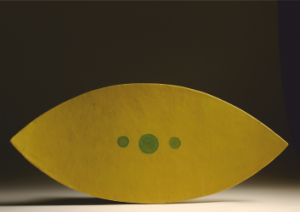 Items created by Anush Avakyan who possesses a natural sense of beauty and great skill, are very unique and original. She seeks to create a plastic image that would unite spiritual structure of the past and modern perception of the world, skilfully combining traditional pottery method with her own innovative technology (painting with coloured clays, metal inserts, etc.). When painting her items Avakyan uses brush only, achieving a striking effect by colour combination. Recently, the artist has also discovered new solutions: instead of painting on a perfectly smooth surface, her colour lines now cover a wavy ground created by finger movements or some bulging objects carved from specially treated fire clay grog. Paying dues to simplicity and naturalness in art, Avakyan masterfully exposes the virtues of the nature's material – its colour, form and texture.
Plastic volumes and shapes created by Avakyan are characterized by immaculate precision and care. Having learned the secrets of the ancient craft, she discovered new plastic and decorative properties of clay, which lend an unusual metaphorical meaning to her works.
After graduating from the Ben'kov Republican Art College, Avakyan worked as a ceramist artist at the Tashkent Experimental Applied Arts Factory, where her now professional eye keenly observed the precise motion of the masters' hands pulling out shapes of different complexity on their potter's wheels. Avakyan hand-modelled small yet rather complex ceramic items almost always consisting of a cylindrical base with all sorts of fine ornamentation and intricate details communicating the artist's perception of the material. Her works reveal her keen sense of the clay texture, as well as her preference of a beautiful proportion of spatial volumes and inherently valued play of light and shadow to the language of plastic shapes. Complex plastic ornamentation and strict laconism in the Avakyan's works can be found in compositions such as "Delaunay", "Eno", and others.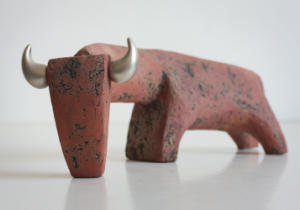 In her work Avakyan employs materials that not only yield to certain plastic conception, but also enrich a composition with their specific properties that significantly influence the image-creating process ("Aleph", "Kazimir", "Ihtus"). The artist does not enter the dimension of sculpture, but seems to expand the "command area" of non-traditional ceramics. According to some researchers, "… the notion of 'decorative solution' or 'decorative imagery' can define only one of the item's qualities; often it is a psychological quality, and as such it places in the border area between the notions of 'decorative plastic art' and 'academic sculpture' (1, p. 181).
Extraordinary fusion of metaphorical thinking and constructivist elements has distinguished the art of Avakyan of recent years ("Emotions", etc.). Yet her compositions are still characterized by the particular importance of ornamentation that covers deliberately austere and ascetic shape and bears the main semantic load. One can distinguish pieces marked by her searching for specific properties in a material and her skilful use of technology effects. Such compositions create associations usually triggered by their names: "Spin-top", "Carmen", "Neo-Empire", "Afro", etc.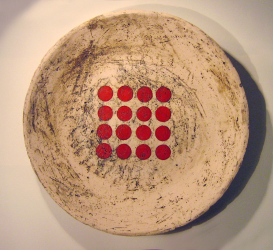 Avakyan worked most productively in the late 1990s. Since 1999, she has participated in the national exhibitions, including "Mustaqillik" [Independence], "The Young People of Uzbekistan", "Shu Aziz Vatan Barchamizniki" [This is Our Dear Homeland], and "Navruz". Several of her works ("Carmen", "1-2-3 ", "Bull", "Bird", etc.) were presented at the Tashkent International Contemporary Art Biennale festivals (2007, 2009, 2011) and the International Symposium on Ceramics in St. Petersburg ("Kazimir", 2008). In 2001 and 2002 her two solo exhibitions ran at the Intercontinental Hotel; a few years later her joint exhibition projects were presented: "ROPolam" [In Half] with jeweller U. Holmuradov (2006) and "Circle Square" with florist R. Saakyan (2011). The Top-Art awards made Avakyan the Ceramist of the Year in 2010, and the Best Applied Artist in 2012.
Anush Avakyan explores a variety of genres, but mostly the animalistic one, although the definition of 'animalistic' for her is as conventional as the sculptured fauna the master creates. Zoomorphic theme for Avakyan is the characters that represent certain sentiments and moods. The artist employs the properties of her material that allow copying the shape and texture of the object portrayed ("Bird", "Joe", "Salamander"). The significance and solemnity of her works are achieved through fortified forms; intense image solutions are born from contrasting juxtapositions of massive and subtle, streamlined and angular. Geometrized masses of amazing shapes appear more voluminous due to their inner connection with modern architectural space. Just as well-considered is the master's use of painted ornaments in his works: she may either emphasize a gentle and laconic form by an exquisitely fine straight-line pattern, or accentuate its shine and suppleness with a stripe of bright colour, achieving a surprisingly powerful decorative effect.
In an attempt to define the uniqueness of Avakyan's artistic personality, one can say that she is an artist with a keen and intuitive sense of style. Characteristically of her, Anush explores the experience of the Bauhaus, Mondrian, and constructivist schools (during her studies at the Design Department of the St. Petersburg State Art and Industry Academy named after Baron von Stieglitz (formerly the Leningrad Art College named after V. Mukhina)), combining it with her reverent treatment of the Central Asia's traditional heritage. Her pieces such as "Green", "Karakum", and "Karakum 2" are based on the use of symbolic motifs and attributes.
Avakyan's compositions are founded in simple geometric shapes and signature symbols with ancient semantics. Circles, ovals, squares, straight lines and local colours become fundamental elements of morphogenesis. The master makes the freedom and simplicity of geometric shapes her conscious compositional principle. A circle or a simple cylinder, combined with their different sections, sometimes get completed with a rim or a half-bowl. Such are ceramic vases, vessels, lamps and bowls. The diverse coloration of these items, according to Avakyan, highlights the properties of the material: these are remarkable items with juicy, deep-tone glazes and large painted colour stripes and circles: "Elektra", "Blue", "Edo", "Karo", and "Karo 2". Bubbly, rough texture of the material produces particularly strongly impression in sharp contrast with ascetic shapes. Avakyan noted: "They crystallize the idea of object and colour as catalysts of communication…" Indeed, the shapes of these items are open and hard to perceive separately, outside their connection to the environment. 'Geometrism', however, is not a result of a direct attempt to create an avant-garde form in traditional material, a form that could easily become part of a certain environment and an element of the overall artistic morphogenesis; rather, it is a kind of artistic structuralism – the basis of the artist's poetics. Connection, interaction and harmony of both the elements of object shapes, and integral shapes between themselves and the space are the key determinants of artistic thinking, while the outlines, silhouettes and facets offer primary means of expression. Yet colour is another most important means of achieving harmony for the artist. This is how one could define her stylistic manner that, perhaps, can be referred to as spatial graphics. The Avakyan's language of space-object relations becomes increasingly more refined, rich and flexible.
Anush Avakyan flawlessly combines her skill in techniques with the desire for noble laconism of shapes and colours. The plastic foundation of her compositions consists of clear structural forms of the material, while colour provides one of the primary tools in the artist's formal language. Impressive colour combinations are born from the master's careful study of colouristic resources offered by applied arts and crafts, including traditional artistic crafts of Uzbekistan.
Pieces wrought by Avakyan are kept in private collections in Uzbekistan, Armenia, Germany, the USA, Israel, Czech Republic, Canada, Poland, France, Russia, Switzerland, and Kazakhstan.
References
1. Хакимов А. А. Современная декоративная пластика Республик Средней Азии. Ташкент, 1992.
2. Дженкс Ч. Язык архитектурного постмодернизма. М., 1985.
3. Модернизм. Сборник статей. М., 1987.