Elmira Gyul,
Art critic
Asia can hardly be represented better than through the image of a quiet maiden's face of heavenly beauty; wrapped in precious silks, she makes one experience a sensation of heavenly bliss. Artists' works are often a mirror reflection of their own inner self. Likewise, the works of Shahnoz Abdullaeva, as if in a kaleidoscope, reproduce the image of a miraculous woman with a gentle smile; a look upon her makes one believe in the world of angels and oriental princesses created by the artist…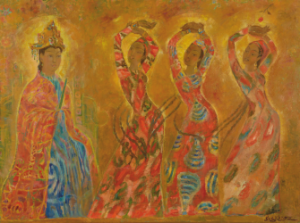 The name of Shahnoz Abdullaeva is well known to the connoisseurs of contemporary Uzbek art. On the backdrop of a symbol-and-metaphor trend that has become quite popular in the art scene, her paintings are immediately recognizable because of her favourite range of subjects and characters that romanticize history, which have evolved over the artist's career, and because of her paintings' meditative mood, fascinating ornaments, rich colour palette…
Shahnoz Abdullaeva began her career in art in the late 1980s, when the search for original ways to develop national painting school, and an interest in the nation's history and artistic heritage of the Middle Ages and Antiquity became relevant again… The theme of the Orient with its mysterious flavour, delightfully spicy colours and exquisite linearity of drawing becomes one of the leading trends. The art of Shahnoz Abdullaeva evolved not so much under the influence of the general trends of the time, as it did as a result of her personal circumstances.
She grew up in the home of Chingiz Ahmarov, an outstanding muralist, painter and graphic artist, whose life and career exemplify freedom of self-expression in art and rejection of any kind of ideological pressure. Ahmarov became her spiritual mentor and teacher. Early in his career in the 1940s, when Ahmarov painted murals in the Navoi Opera Theatre, he synthesized the techniques of oriental manuscript miniature painting and that of Italian Renaissance frescoes, to subsequently become a founder of an entire movement in the country's art that revived miniature painting traditions. It was Chingiz Ahmarov who helped Shahnoz appreciate artistic heritage of the West and the East. With his blessing, she made her first choice, turning to the style of medieval frescoes.
Early in her career Shahnoz learned to work with tempera that helped create a convincing effect of an aged fresco. This technique taught the artist to model shapes and outlines quickly and clearly, and defined her unique style, exposing her extraordinary talent as colourist (The Dance (1989), Journey (1989), Pearl (1991), a series inspired by The Seven Beauties poem by Navoi). Paint, as if splashed onto the canvas, allowed achieving unusual textures: contrasting colour spots mingled, still keeping their own sound and setting a rhythm for the composition where the chaos of colour elements suddenly generated images mysterious in their silent poise. It is the medieval murals in Buddhist temples and monasteries that inhabited her paintings with the images of goddesses and angels with deep- and light-blue faces: thus Shahnoz alludes to their divinity and connection to the upper, heavenly world… Regardless of subsequent experiments, tempera still remains Shahnoz' preferred technique that allows her to achieve romantic fill and emotional colouristic sound that contains the full range of emotional experiences in her works.
Artistic heritage of bygone centuries has become a regular source of inspiration for Shahnoz, inviting her to learn the secrets of ancient cults and unravel mysteries of mythical poems… Learning history and inspired by ancient murals, the artist creates paintings dedicated to ancient gods and heroes, festivals and rites… She enthusiastically recreates a time-distant universe she conceptualized and implemented through soulful images: Mourning Anahita (1989), Dilaram (1990), Navruz (1990), Anahita (1994), Maiden-Moon (1995), Navruz: Mehrigan (1998), Dancing Girls: Navruz (2000), Isis (2000)…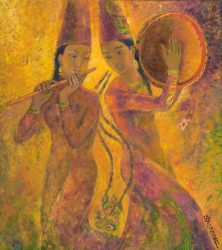 Focused study of oriental culture and mythology has largely determined the evolution of Abdullaeva's artistic identity. She is drawn to finding symbol-images that can infinitely expand the range of related associations. Among her favourite motifs is a cart representing the concept of motion and ever-changing life situations, or a bowl symbolizing spiritual fulfilment… Yet one of the key and immediately recognizable images is the angels: without them the world in the artist's canvases would be hard to imagine. The angels theme that came as a response to the loss of a person dearest to her sounds in her art as a tuning fork setting it to sublimely romantic key. Work on the images of these celestial geniuses enables the artist to fully express her own sentiments and understanding of the world. Meditative contemplation blends with ultimate aestheticism that lends spiritual quality to reality.
Her recent works exploring the theme (Angels. Roses (2009), Angels in the Garden (2010), Angel with Roses (2011), Angel with Roses (2012)) evidence the artist's improved mastery. Her colour palette get richer in shades and nuances, creating an atmosphere of divine appearance, and her drawing is more refined.
For Abdullaeva, the late 1990s was the time of ceaseless searching and experimenting. She aspires for change, trying to renew her style and painting manner, having realized that art is a dynamic process and is never constant. Still, Abdullaeva remains true to herself: to her favourite characters, sublime sentiment, and bright colouring in her paintings. Her fascination with the history of Uzbek applied arts makes her focus on exquisite designs of textiles, embroidery, and old jewellery. The new interest leads naturally to the transformation of her artistic signature: tempera mirages give way to careful, detailed drawing. However, strict adherence to classic designs chained her creative imagination, and in the early 2000s a new, mosaic, style emerged (The Three Graces (2002), Emerald Angel (2002)).
Admiring old textile, Shahnoz Abdullaeva finds a new source of inspiration that brings her to a 'decorative' phase in her art. This time, along with abre silks and bahmal, traditional Uzbek suzane embroidery designs appeal to her (Seller of Textiles (2009), Self-Portrait (2009), Prayer (2009), Kiss (2009), Khorezmian Girl: Dance (2009), Samarqand Apple (2009)). Playing with textile designs is not intended to be straight copying. Their inclusion in a composition primarily comes from the desire to reproduce the spirit of traditional culture with its characteristic mysticism, where each design is a secret symbol understood by the initiated, and to emphasize the nature of the characters: lovers and angels, dancers and madonnas…

Our genetic memory still perceives embroidery designs as powerful protective charms that secure bounty, prosperity, love and fertility. In Abdullaeva's works the charm-designs splash out as a bright, intricate veil. These drawings show nostalgia for the harmony of existence gradually getting lost in modern life; there is also a sense of celebrating the delight for the eyes and soul, and reverence for many generations of talented nameless women-masters who created true masterpieces. The author's admiration is overwhelming: it sounds as the chords of fiery red, yellow and emerald-azure shades communicating this emotional intensity. Searching for artistic expression that would most adequately represent Abdullaeva's notion of the idyllic cosmos of the national culture likens her paintings to an abundant feast of colour and ornament, where every inch, while having its own expressivity and value, carries explicit and implicit meanings, brimming with poeticism (Dance of the Rose (2010), Tenderness (2012), Navruz: Melody (2012). It is not by chance that many works of the master are inspired by oriental poetry.
Working in the open air, Shahnoz turns ordinary landscapes into paradises, infinitely beautiful, filled with a sense of harmony and goodness of life (Angels at Breakfast (2005), Paradise: Angel (2006), Conversation in the Vineyard (2006)).
Sometimes themes in the works of Shahnoz Abdullaeva are born spontaneously under the influence of momentary impressions, each time presenting an occasion to express a wide range of associations that expand the painting's content. Thus, a visit to Bukhara got Shahnoz to discover the beauty of palace murals, and she dedicated a series to the popular interior motif of a flower vase. These works demonstrate both explicit and indirect connection with the classics of oriental art: luxury flower bouquets symbolize triumphant and blooming life; pomegranate fruit and fish on the background of rounded vases are believed to bring fertility; peacocks and songbirds are the symbols of life in paradise; and hoopoe birds represent oriental wisdom. In the meantime, the artist's style experiences further transformation, and her carefully painted and somewhat rational 'mosaics' yield to an element where shades mix, making the surface of a painting appear as vibrating, breathing space (the works of 2010-2012).
For Shahnoz Abdullaeva, the emphasis on designs is another opportunity to highlight her artistic identity and the connection of her art to the centuries-old culture of her people. Having sensed the key message of oriental art – the use of pattern-codes to communicate the idea of infinitely beautiful world, harmonious and peaceful – and following this tradition, the artist aspires to create works that introduce the viewer to the mystery of existence so poetically expressed by Omar Khayyam: "This mocking world holds naught but shadows and phantasms".