Chinghuz Ahmarov,
artist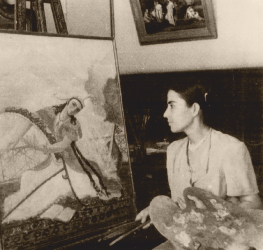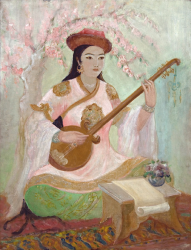 Among the young artists of Uzbekistan, Shamsroi Hasanova and her art stand out. While the work of young artists we have reviewed so far show consistent gravitation toward Realist easel painting without any element of decorativism, pieces by Hasanova created until present have many features of oriental miniature with its decorativism, flatness and ornamentalism.
Brought up in an environment where the entire household setting was filled with traditional ornaments and decorative art items, Shamsroi Hasanova, who used to embroider suzane wall-rugs and skullcaps since she was a child, later in her paintings could not abandon decorativism and ornamentalism. After finishing a female school named after Zeb-un-Nissa, where her talent for drawing was manifested, Hasanova entered the Tashkent Art College, where she studied four years. For their summer workshops, the college students travelled to Samarqand to study with P. P. Ben'kov and Z. M. Kovalevskaya.
Hasanova created portraits of a poetess Zeb-un-Nissa, great-great-granddaughter of a famous Mughal dynasty founder Zakhiriddin Babur; of a poetess Nodira from Kokand; of a Samarqand poetess Mihri who lived during the time of Shahrukh; of a Kokand woman-musician Taji Davlat; and of a Turkmen poetess Makhsat.
Hasanova portrays the Kokand poetess Nodira sitting on a terrace, preoccupied with verse writing. Her delicate face is thoughtful as she seems to be thinking over her new poems. The poetess' pink dress, white veil over her head, the gold of her jewellery, and a red carpet in combination with a light-colour landscape create lyrical atmosphere around the woman. The portrait has been acquired by the procurement committee for the collection of the Museum of Oriental Cultures in Moscow.
In the portrait of Zeb-un-Nissa one can see a blooming garden and a poetess walking down its alley. She is wrapped in thought, holding a book to her chest. Her white vestments and white veil move in the wind. In the foreground the artist pictured flowers; white silhouette of a palace is visible in the distance. All elements in the portrait of the poetess take the viewer to the times of Babur and to the gardens of India where Zeb-un-Nissa spent the days of her life.
Turkmen poetess Makhsat is portrayed by Hasanova standing by the yurt, with a desert behind her. Makhsat is holding a scroll in her hands. Young, comely face of the poetess is looking almost straight towards the viewer, with a wide-eyed gaze into the distance. The entire portrait is performed in a warm golden-red tone. Decorativism, however, prevented the artist from creating a profound character. In her other portraits (Taji Davlat, Samarqand poetess Mihri) conventionally decorative techniques did not allow the artist to expose the people's character deeply enough either.
In 1944 Shamsroi Hasanova painted a picture in an attempt to switch to the themes of modern day. Although colour-wise her Springtime Field Work is painted with subtlety characteristic of the artist, its conventional drawing instead of exposure of the women-farmers' characters has limited the artist's capability, leaving the picture unconvincing.
The artist herself realizes that to portray modernity she has to switch to a fuller realist manner that is based on the study of nature. It is unfortunate that Hasanova's training with Mikhail Fyodorovich Shemyakin, one of Repin's best students, did not last long. During the World War II, Shemyakin lived in Tashkent for some time, where he acquainted with some of the young Uzbek artists and helped them in their work. Shamsroi Hasanova was also among these young artists who studied with Shemyakin.
Shemyakin's students from Uzbekistan keep warm memories of the time with their mentor. Ben'kov taught his students to communicate life immediately, without any formalistic 'isms', and Mikhail Shemyakin encouraged them to do the same.