Vera Chursina,
Designer
Public concern of the environment is one reason why a new concept in design has evolved.  The concept of sustainable design (viable, environmentally friendly) is based on the principle of economic, social and environmental viability. Government resolutions aimed to develop economy, cottage industry, and vocational education, as well as open borders and a genuine interest of the West in our country with its ancient culture and traditions facilitate regional tourism and participation in international fairs.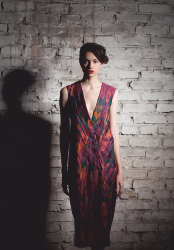 Designers tend to treat functionality differently, following different concepts when crafting their collections; they employ different methods of shaping and ornamenting their items intended for people with different lifestyles. Structure, form, and rich ornamentation of the traditional costume, as well as the revival and development of traditional crafts such as weaving, embroidery, and printed cloth, strongly influence the evolution of apparel design in the country.
Among masters pursuing one of the current trends in design is the already well-known fashion designer Saida Amir from Tashkent ("SaidaAmir" brand). Her apparel has distinct non-traditional shapes that reveal a caring attitude toward hand-woven materials. Amir's costumes are not just some exclusive apparel: it is an important element reflecting ethno-cultural tradition. The principles of morphological transformation enable the master to create multivariate models. Amir boldly experiments with volume, proportion and the combination of different textures, colours and ornaments. For instance, her application of traditional printed cloth technique in the "New Women of Sart" collection (2009) on silk (gauze, excelsior) instead of the usual cotton was a huge success and set a foundation for an entirely new vector in the ornamentation of these textiles.
Young Uzbek fashion designers Zulfia Sultanbaeva and Dildora Kasymova also seek new ways to re-create national characters aligned with both tradition, and a new lifestyle of a modern man; in so doing, each of them chooses her original approach. According to Kasymova, her key objective is to find a unique, easily recognizable style. So she opted to establish her own brand positioned as luxury apparel made of highly-priced locally made and imported textiles. It is the choosing of fabrics (from 20 to 30 samples) that Kasymova begins her work on the collection with. She cooperates with the Margilan-based factory Yodgorlik where she orders ornamental compositions of her own design, which expose not only her creative personality, but also her careful accounting and consideration for the properties of a hand-woven fabric.
Specific attention Kasymova gives to the design of accessories that, in her view, make a costume complete. Sometimes the designer spends more time on finding the right shape for footwear, purses and jewellery than on creating her apparel. Wooden accessories in her 2009 collection were inspired by the carved timber doors in ancient Bukhara, and her tiara – by women's tilla-kosh 19th century forehead jewellery. In this regard, noteworthy is the close interconnection between traditional crafts and contemporary design. The master, following sketches, produces amazingly beautiful ornaments in the traditional wood carving technique, using particular types of wood for shoes, bracelets and clutch purses, while maintaining one of the core principles of design – functionality. Just as painstaking was her collaboration with the Ustozoda jewelers to manufacture headpieces for her 2013collection.
One can thus argue that communication and interaction between designer and hunarmand (artisan) happens both ways, when cottage-based textile manufacturers no longer work for a random user, but cater to a particular apparel designer requiring specific dimensions of repeat compositions and colour combinations, and also make designer-created ornaments. This results in the broadening of the range of textile for apparel, home and office: companion fabrics appear, and with them new thematic patterns, small-repeat iqat compositions and colour diversity. Yet theses textile designs are unique, and the manufacturing technology makes replication impossible; therefore, apparel made ​​of these fabrics following designer sketches can be safely categorized as haute couture.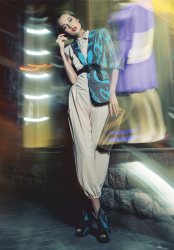 Many fashion designers, just as Dildora Kasymova and Saida Amir, cooperate not only with craftsmen, but also with professional footwear and accessories designers such as Muhabbat Sultanova, the founder of the "Sultan" brand. The brand is characterized by high quality products, the use of exclusively natural materials (leather and handmade textiles, namely ahlo-bahmal, adras, satin, shoyi, bekasam), and keen understanding of the potential of fabrics different in structure and texture. The "Sultan" brand engaged most durably and productively with Madina Kasimbaeva, embroidery master from Tashkent working in the ilma technique, and with Gulnara Adilova, a well-known embroiderer from Shahrisabz (iroqi technique). Their products, be it open flats, high boots or handbags, are traditionally based on embroidery designs. Besides avant-garde designer shoes they are working to develop the "economy" line and ready-made shoe models to be sold through the Salamander retail network. A success story has been their joint design project with Human House Gallery: the eye-catching footwear for young people in sports style made ​​of semi-silk adras with abre pattern. Sultanova's professional creed: "No matter how stylistically complex the footwear may be, it should be comfortable and pleasant to wear".
Among the objectives pursued by designers are to create clothing and footwear suitable for the local climate of the region, to revive traditional forms, re-use materials, and produce durable high-quality goods that keep their functional relevance for a long period of use. Born designer Alexandra Chichinova uses economical and rational cut in making her apparel of hand-woven textiles. By making use of the 'cave-ins' in the cut to manufacture accessories (handbags, clutch purses, vanity bags) she has been successful in eco-fashion. Her models have a distinctly laconic tunic-like cut featuring traditional ornamentation techniques (printed cloth, embroidery, ornamental jiyak braid). Seeking to reflect her mental outlook in apparel, Chichinova remains true to her signature style.
Locally designed apparel becomes increasingly popular in the country – an evidence of growing awareness of people's social, cultural and ethnic identity. Kanishka brand is one of the most recognizable and creative among local designer brands in the prêt à porter class. A talented businessman and art-director, designer Aleksei Manshaev chose his own strategy to develop and promote the brand. It primarily concerns style and specificity of making clothes ​​of leather and fur; pricing policy, and targeting specific customer groups. His main clients are young, energetic people and those who consider themselves such, marginalized bohemians and students, that is, the largest target segment.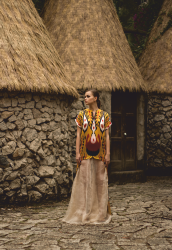 Manshaev's early work was influenced by a phenomenon known as anti-style that defined the development of conceptual costume design in the second half of the XX century. His first men's apparel collections were inflammatory and looked more like a freak's manifesto the public found shocking, yet universally appealing. This was actually a very clever PR move. Today, Kanishka designer brand is conceptually based on three elements: values, individuality, and positioning. This involves many things: the opening of a concept store, the quest for new prints and textures, and commitment to the principles of sustainable development. The master uses wooden kolyb blocks, both ancient and of his own design, for traditional printing on leather, denim and knitted fabric, while ornamenting his tambour embroidery (popop technique) with metal rivets. Assembling small patches of coloured leather and fur like a mosaic he creates amazing material turned into quite utilitarian things in the capable hands of the masters. Market demand, the incredible popularity, and thus the need for a new design product urge Manshaev to further develop his brand: besides unisex youth apparel and men's line, now available are accessories, toys, and home textile (home collection).
To be successful in apparel manufacturing it is no longer enough to have designer's talent. Professional designer of a new kind is an extensively trained expert who easily adapts to different design projects, depending on operational requirements and the demands of time. One has to have a mix of skills in management, styling and marketing, an ability to anticipate fashion trend and understand its regularities, as well as good practical knowledge in working with form and design solution of a costume. Hence comes the need for close cooperation between school and design industries.
Such creative cooperation experience already exists between the Zulfia Sulton brand and the Fashion Design Department of the Behzad National Institute of Arts and Design. Students actively engage in assignments, as well as in the development and creation of a design product. Having a wealth of experience in working with traditional textiles, designer Zulfia Sultanbaeva in her lab creates incredibly complex, multi-layered exclusive items for women; these pieces are known for their individual expressiveness, original ornamentation, and clever employment of ethnic elements. She devises an original constructive solution through a variety of design and modelling methods. Only after having all the details worked out on a dress stand in a prototype material she proceeds with the manufacturing in the actual fabric. For some items in her recent collection Sultanbaeva used nearly 100 meters of shoyi silk. The master requires that novice designers treat traditional textiles with care and attention, encouraging her students to study the culture of the national costume ornamentation. Importantly, at this stage of training, intuitive art gets complemented with deliberate project analysis. This is how students develop a personal style enabling them to compete for a business engagement. Thus, Nargiza Hojamkulova, having trained in essential skills in the design studio of Zulfia Sultanbaeva, has created her own prêt à porter line.
Also searching for a style of her own is a young designer Taisia Chursina who, when travelling, studies the culture and life of other nations, their costumes and manner of wearing. Sketches drawn on the road provide ideas for future collections. Thus, her experience from a trip to China was reflected in asymmetric items in the 2012 collection, and traditional kurpa patchwork covers influenced her conceptual apparel in 2013. Combining different textures of knitted fabric, linen and silk in one item, Chursina creates originally shaped yet comfortable garments for women and men.
The country's fashion design is still quite young, just as its creators, and it lives, constantly perfecting itself. Going deep into the strata of traditional ethnic culture, it is receptive and open to partake from the attainments of other cultures, as exemplified by new designer brands, such as Uzbek Apparel, TAIS & I, Da-Shik, COMO, Moel Bosh… Creative approach of the young artists, as well as item replication on a reasonable scale make the product of these brands more affordable, compared to pricy imported garments.