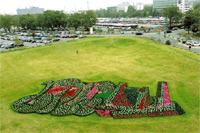 Public art is the art of urban environment, which is addressed to inexpert audience and implies communication with urban space. The term refers to the works of art created specifically to be positioned and displayed in a public place, often in the open air. Perhaps the oldest known examples of officially endorsed public art are monuments, memorials and sculptures. Different themes and materials are used to create contemporary public art.
What are the trends in contemporary public art? What opportunities exist for artists who have chosen the domain of modern art, and what is the social value of these events? These and other questions will be answered by a new multiple-stage Art City project initiated by Goethe Institute. The main goal of this "process" project is to explore new possibilities to develop modern art in Eastern Europe and Central Asia, as well as create awareness of public space as a resource that contributes to social and urban development. The Art City project is a forum for artists, curators, local art critics and decision makers active in the domain of culture.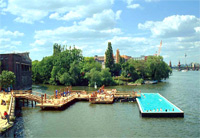 In early October the first project event was a seminar dedicated to the topic of "Public Art", which was delivered by Vera Tollmann, a freelance art curator from Berlin and the author of many articles on modern art. Akbar Khakimov was the project consultant based in Tashkent. The seminar discussed new global trends in urban implementation, developed space utilization strategies, and analyzed common public art paradoxes in specific cultural context.
In October 27-30, with support from Goethe Institute, Tashkent hosted a master class on the subject of "Locality-specific work" – the second event in the project framework. The class was led by Susanne Lorenz, art critic, curator and visiting lecturer from Berlin. The projects of Dr. Lorenz are well known and earned a variety of prizes and awards.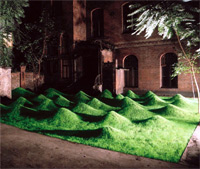 In her presentation, Susanne Lorenz provided numerous examples which helped the participants to learn what the locality-specific work is about, and how a theme can be initiated or materialized in a particular urban spot. After a walk together and an introduction to Tashkent, when each project participant presented a place or a part of the city that had some special significance for him/her, the participants proposed their ideas reflecting a personal view upon the city of Tashkent.
Apart from Uzbekistan, discussions, seminars and master classes under the project will also be held in eight cities in Armenia, Georgia, Belarus, Kazakhstan and Russia. The outcome of the project, based on the results of the contest among project proposals on the subject of "Public Art", will be a study tour to Germany scheduled for spring 2011; it should enable the project participants to establish contacts with German artists and public art promoters. After that, all selected works are to be implemented in the project sites.
Inna Sandler